Women unite around AI
In the world of artificial intelligence and man vs machine, where have all the women gone? Why is there such an imbalance and what are the consequences? We meet Laurence Devillers, professor in AI at the Paris-Sorbonne University and researcher at the computer science laboratory for mechanics and engineering sciences (Limsi) at CNRS.
New questions are emerging in the media, "Is AI sexist?" or "Does AI have a gender?" What do you think? 
Laurence Devillers: Artificial intelligence is a scientific field that enables objects to be designed with cognitive abilities. It works by imitating, through a form of mimesis. Objects are genre-less, but we can simulate a personality, either male or female. It still remains artificial.
However, it's natural for people to project a genre on objects such as robots. When it comes to these objects, it would be useful to define a new way to describe intelligence, autonomy, consciousness, humour, emotion and genre.
However, it's mostly men working in this area. Is that a problem?
L.D.: It's a disturbing imbalance. Today, 75 to 80% of engineers in technical fields are men. This has a bad effect on the outcome of teamwork, because diversity and social mix generate richer options. Take an all-male group for example: they'll rally behind the strongest opinion. Add women into the mix, and each will hold a different view. Women enable the group to come up with more interesting solutions, because the range of choice is broader.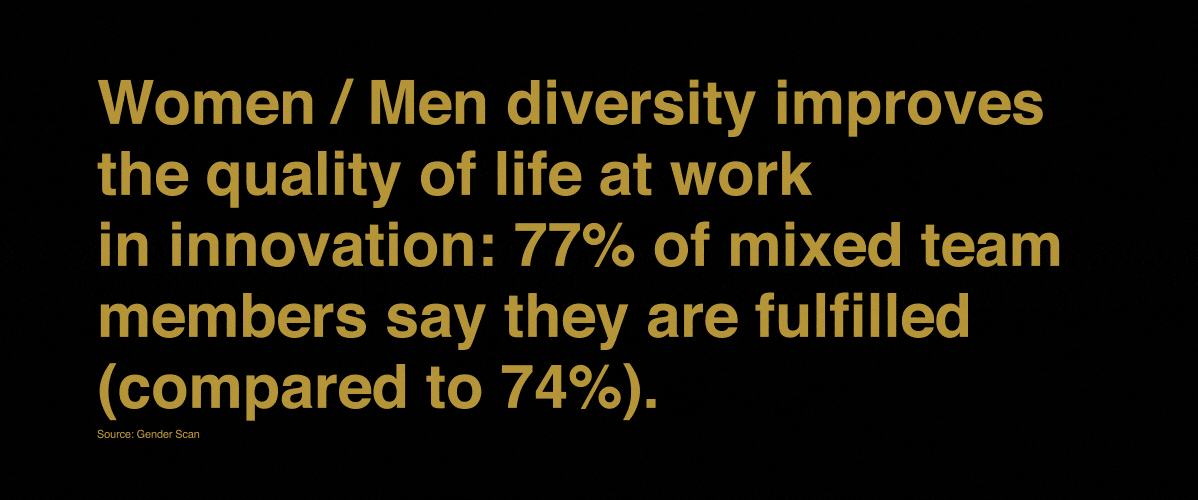 Are women put off by artificial intelligence? 
L.D.: Not at all. In my experience women have always been really curious about AI. They consider the impact of it on their daily lives, and how it can be used in education, health and the workplace when it comes to people in society. Women are interested in artificial intelligence in a more localised way, and especially in a multidisciplinary perspective.  
Is it more a question of visibility?
L.D.: It's obvious! Women are rare in the world of AI, not absent. Yet, the media doesn't give them a mouthpiece. AI magazines, newspapers and conferences all call on men! Women are not being listened to, and this is becoming a real issue in terms of society, technology and ethics. Several of the bodies I'm a member of are raising questions around women's place, such as the French Commission on the Ethics of Research in Digital Science and Technologies (CERNA), an initiative created in 2009 by research centres, colleges and universities to ensure coordination and multilateral agreements across stakeholders.   
How would you establish a greater balance between men and women in technical professions?
L.D.: Women should be integrated, but not as a result of an obligation or a quota. Men must understand that having women in the picture enriches their own work. The contribution of gender balance should be taught to boys from a young age. At the same time, girls need to be more engaged in these areas, and successful women should be celebrated in a wide variety of AI fields that involve creativity, collective interests and learning, not just competition and profitability. We must also improve their visibility, giving them a stage for explaining the attractiveness of their profession.  
Do you think this imbalance is the only difficulty faced by artificial intelligence?
L.D.: No, there's another problem: that of reducing AI to a scientific field. AI should be part of an interdisciplinary social context. We cannot isolate the technology. On the contrary, it needs to be thought of in terms of (wo)man-machine co-evolution: objects are enabling humans to evolve along with their behaviour, and conversely, people are evolving these objects.
To reflect on this co-evolution, multidisciplinary teams combining hard and human sciences are needed. These teams should also include politicians, sociologists, economists, lawyers and, if appropriate, experts in energy, climate change, medicine… These teams should be together right from the design phase of the object and accompany the co-evolution over the long term. It's a disruptive mode of operation, but one that should be considered urgently. Women must have as much room in the AI debate as men.